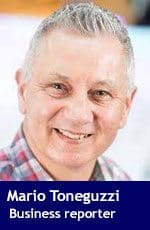 The sprawling Spruce Meadows equestrian site has grandiose plans for the future, which could include a 12,000-seat stadium, an indoor field house and a boutique hotel.
It's all part of the facility's 30-year area structure plan that received first reading at a recent Foothills County council meeting.
"We author one every decade to try to be on the record of what we're anticipating and you know you can't see 10 years down the line but I can say this: that out of our last area structure plan, I would say fully 90 per cent of the stuff that we had envisioned happening came to fruition and the other 10 per cent either didn't happen or morphed into something that kind of adjusted with the times," said Ian Allison, senior vice-president of Spruce Meadows.
"We've been working on it for the last two plus years. We de-annexed part of our land that was in the City of Calgary a number of years ago so we fall fully within the County of Foothills. … That was streamlining effect. The last area structure plan that we created we still had part of the Spruce Meadows lands fall within the City of Calgary.
"About three years ago as we were falling to the end of our existing area structure plan, we mounted an effort of looking at what had happened in the last 10 years. If you think of 10 years ago, Silverado (residential community) didn't exist. The southwest Calgary ring road didn't exist and all of the infrastructure in the city that's now moving south with the new developments at Brighton and so on and so forth, all of those have been developments within the last decade."
Spruce Meadows itself has grown. For example, the Spruce Meadows international Christmas market is now a significant entity. Spruce Meadows also hosts 300 plus events a year outside its show jumping tournaments. It has become a member of soccer's Canadian Premier League with the launch of Cavalry FC this year.
"Spruce has now become what we would call more of a sports and entertainment district over the last decade. We have Movies at the Meadows. We've had our introduction into various types of runs. … We now host the largest dog show in Canada here. We have dozens of weddings," said Allison.
"As we look down on our crystal ball going forward and with upwards of a quarter of a million people living south of Fish Creek now, we're now also a regular daily visitation point or destination.
"The plan that we've put forward sort of identifies Spruce Meadows in a little bit of an evolutionary way going forward to incorporate a bit of a retail district, a sport and entertainment district, an agricultural zone – all of those kinds of things."
---

The views, opinions and positions expressed by columnists and contributors are the author's alone. They do not inherently or expressly reflect the views, opinions and/or positions of our publication.