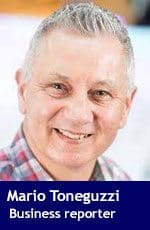 Calgary is in the middle of the pack for rental rates in Canada, according to a new report.
The city sat 17th on the list of 30 cities for average monthly rent for a one-bedroom home at $1,242 and 19th for average monthly rent for a two-bedroom at $1,479.
The September National Rent Report was produced by Rentals.ca and Bullpen Research & Consulting.
The municipality had the most expensive rent of the five Alberta cities on the list, said the report. Grand Prairie, Edmonton, Red Deer and Lethbridge were also on the list.
The average rental rates declined in Canada for the second month in a row after two straight months of increases, added the report.
The report cites some of the preliminary findings of the fourth annual Canadian Multi-Res Tenant Rental Survey by Avison Young & Informa Exhibitions. It shows Calgary and Edmonton renters spending 36 per cent and 37 per cent respectively in rent-to-income ratio. The Canada Mortgage and Housing Corp. recommends a 30 per cent rent-to-income ratio, it said.
"Calgary and Edmonton rents overall have been relatively flat over the past year, with the average rent rising by $7 and $22, respectively from November 2018 to August 2019," said the report.
"Even though August is one of the busiest months for moving in Canada, that didn't result in an increase in rental rates month over month, as the average rent for all property types on Rentals.ca declined by 0.7 per cent to $1,914 per month."
This follows a decline of 1.3 per cent in July. The median asking rent in August of $1,800 per month is also down from July ($1,825). But overall, rental rates in Canada for all property types are up eight per cent from the end of 2018, it added.
Toronto led all cities in average monthly rents for one-bedroom homes ($2,330) and two-bedroom units ($2,904).
At the bottom of the list, cities with the most affordable average monthly rents are: Gatineau, Quebec City, Lethbridge, Saskatoon and Red Deer, added the report.
---

The views, opinions and positions expressed by columnists and contributors are the author's alone. They do not inherently or expressly reflect the views, opinions and/or positions of our publication.