Kristen Dyck is a personal brand strategist and founder of AVRO Creative.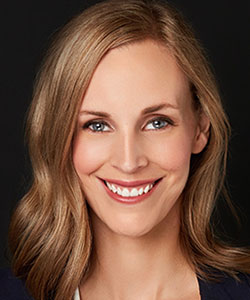 Tell me a bit about AVRO and what you do there?
Dyck: I help ambitious women reach their goals using a unique personal branding process. It's all about personal branding from the inside out.
There's a ton of information out there on what personal branding is and why you need it, but very little that explains the steps you need to take to do it effectively.
I write speeches for senior leaders in Calgary and I've worked on brands like Coca-Cola, United Way and Glaceau Vitamin Water. I've taken all the proven practices in these areas and adapted them for personal branding.
Why have you focused on women in what you do?
Dyck: We need more women leaders. Personal branding is the tool that helped me break into management positions and later start a business. I want to teach other women how to use personal branding to more effectively communicate their value so we see more women in leadership roles across Canada.
How important is it today for people to develop their own brand?
Dyck: Good work doesn't speak for itself. You have to speak for yourself. I learned this the hard way.
If you want to be a leader at any level, be part of exciting projects at work, or grow your business faster, it's important you have a personal brand. Your personal brand helps you stand out and communicates why you are the best person for the job.
Personal branding is the same as saying you're in the driver's seat of your career. You know where you're going, you know why and how you'll get there.
What steps can people take to develop a brand?
Dyck: If you want to stand out, stop talking about what you do as your job title. Go beyond thinking about what you do in terms of skills and activities, and consider what solutions you provide your customers, colleagues or other stakeholders. Start talking about what you do as the solution you provide.
If you're not already, start looking at your career and what people know about you more intentionally. Look inward and think about your goals, values and interests. List all of the great things that comprise who you are, think about your audience (your customers, your boss, etc.) and what they need to know about you.
The overlap between the two lists is the foundation for your brand and what you need to be sharing about yourself.
What are the best things about running a business in Calgary? And the challenges?
Dyck: The best things about running a business in Calgary are the people. People here are ambitious and eager to do the work to grow their business or career. There is a real sense of community among business owners in Calgary, too. There are a lot of ways to connect, learn from each other, lean on each other and collaborate.
There's a challenge in that talented people have been stressed about keeping their job instead of focusing on growing their career. But Calgary is home to a lot of different industries with opportunities for women leaders.
– Mario Toneguzzi for Calgary's Business
---

The views, opinions and positions expressed by columnists and contributors are the author's alone. They do not inherently or expressly reflect the views, opinions and/or positions of our publication.
Caption: Kristen Dyck, a personal brand strategist and founder of AVRO Creative.