Mark Petros is owner of Nick's Steakhouse & Pizza.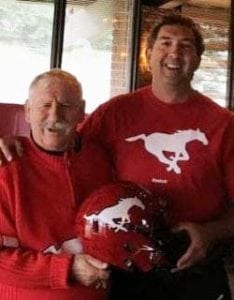 What's the history of Nick's? When did it open? Who started it?
Petros: Born in the small village of Kardiakafti, Greece, Nick Petros came to Canada at the age of 17, leaving his parents, five brothers and three sisters behind. Though he had no money in his pockets and spoke no English upon his arrival, Nick worked numerous jobs ranging from janitor, dishwasher, busboy, waiter, maitre'd and manager.
Nick spent countless years in the restaurant industry before he founded Nick's Steakhouse & Pizza. With a collection of his family's recipes, along with 25 years of on the job training, Nick knew his restaurant would be a success. He still greets each and every customer as though they were a guest in his own home. Nick and his family worked very hard at the restaurant over the years.
Mark and his wife Michelle purchased the business from Nick and Joan in 2000. Nick will never 'retire' and can be found chatting at tables throughout the restaurant on any given day.
You've been in business for a long time. What's the secret to your success?
Petros: Our recipe for success has always been: Serving hearty portions of wholesome food with impeccable service at reasonable prices. Our food is made fresh from scratch using locally-sourced ingredients from local suppliers. For instance, we use only the finest AAA Alberta beef for all of our steaks, and the best 100 per cent real mozzarella and cheddar cheeses.
There is no a la carte at Nick's, meaning all of our meal prices include: tossed salad, vegetables, choice of baked, mashed, rice, or fried potatoes and garlic toast. There are no hidden costs at Nick's.
You've pretty much stayed the same over the years in terms of the physical space of the restaurant and what you deliver. Why?
Petros: We want people to feel like they're coming home when they walk in the door, like they're a part of our family. We feel that our classic retro '70s vibe reinforces our traditional family values, which differentiates us from today's modern restaurants.
What impact has the hike in the minimum wage had on your business?
Petros: As a small business, the minimum wage hike has impacted our business in a negative way. Not only has our payroll increased, but we're forced to employ less people to maintain our menu pricing structure.
What are your future plans for Nick's?
Petros: The third generation of the Petros family is now involved and working in the family business. It's exciting to watch all the third and fourth generations of customers supporting Nick's with their families.
Nick`s has been around for 40 years and with the support of our loyal, local community, we hope to serve Calgarians and all our visitors for 40 more.
– Mario Toneguzzi
---

The views, opinions and positions expressed by columnists and contributors are the author's alone. They do not inherently or expressly reflect the views, opinions and/or positions of our publication.