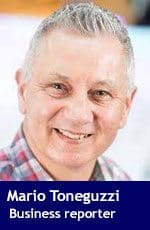 Manufacturing sales in Alberta rose an impressive 3.7 per cent in June to $6.5 billion, largely driven by higher production of petroleum and coal products following temporary shutdowns in April and May, says Statistics Canada.
"Production ramp-ups in Alberta refineries, which started in May, continued into June with sales increasing by 15.4 per cent," said the federal agency in a report released on Thursday.
The monthly gain for the province was second in the country behind Quebec's 3.8 per cent hike to $14 billion in manufacturing sales.
On an annual basis, Alberta sales were up 9.2 per cent.
Across the country, StatsCan said manufacturing sales rose 1.1 per cent to $58.1 billion in June.
"The increase in June was mainly due to sharply higher sales in the petroleum and coal product industry, while sales were down in the chemicals and food manufacturing industries," it said.
"Sales of petroleum and coal products increased 15.9 per cent in June. Several major refineries ramped up production levels following temporary shutdowns and spring maintenance that began in April and continued into May. The production increase following the shutdowns was reflected in higher capacity utilization rates for the industry, which rose from 69.8 per cent in May to 89.8 per cent in June."
The report said sales also rose in the fabricated metal (+3.0 per cent) and the plastics and rubber (+2.2 per cent) product industries. Sales of chemical products were down 4.5 per cent. Sales of food products fell 1.7 per cent.
"Total manufacturing inventories increased 0.5 per cent to $82.1 billion in June, attributable to higher inventories in the petroleum and coal product (+6.3 per cent) and the machinery (+1.7 per cent) industries. Inventories of transportation equipment declined 1.2 per cent," added StatsCan.
On a year-over-year basis, sales in Canada were up 6.9 per cent.
The inventory-to-sales ratio decreased from 1.42 in May to 1.41 in June. The inventory-to-sales ratio measures the time, in months, that would be required to exhaust inventories if sales were to remain at their current level.
Respected business writer Mario Toneguzzi is a veteran Calgary-based journalist who worked for 35 years for the Calgary Herald in various capacities, including 12 years as a senior business writer.
---

The views, opinions and positions expressed by columnists and contributors are the author's alone. They do not inherently or expressly reflect the views, opinions and/or positions of our publication.
Calgary's Business is a Troy Media Digital Solutions Associate website