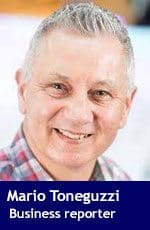 Alberta's mandated short-term reduction in oil production will have an impact on the province's real gross domestic product growth next year, according to a report released on Monday by BMO Capital Markets.
On Sunday, Alberta Premier Rachel Notley announced the reduction in response to the historically high oil price differential that the province says is costing the national economy more than $80 million a day.
Production of raw crude oil and bitumen will be reduced by 325,000 barrels per day to address the storage glut. That represents an 8.7 per cent reduction. After excess storage is drawn down, the reduction will drop to an estimated average of 95,000 barrels a day until Dec. 31, 2019, when the rules supporting this action end, according to the provincial government.
"We've now cut our 2019 real GDP growth forecast for Alberta to 1.2 per cent, down from an expected 2.4 per cent clip in 2018 – we recently had a forecast as high as 2.5 per cent for next year," wrote BMO economists Benjamin Reitzes and Robert Kavcic in a commentary. "We had already assumed that capital spending budgets would be scaled back next year given the weak price environment, but the production cut adds a new layer of downside.
"That said, a few factors temper the negative tone: The deflator will likely run a bit stronger given a better price environment; the temporary nature of the cuts probably doesn't have the same multiplier effect (on jobs, spending, etc.) as permanents cuts; and the energy sector has already cut operating costs in recent years, improving its ability to sustain through a lower price environment. Finally, insofar as the production cut lifts prices, sentiment could actually improve in Alberta as a result of today's measures."
The economists said the hit to national GDP will be upwards of two per cent annualized, but BMO had already built in production cuts of about 120,000 barrels per day in the fourth quarter, as previously announced by various companies, so the actual impact on the first quarter should be a bit less – more like 1.25 per cent to 1.5 per cent annualized.
"Either way it will put a serious dent in the GDP forecast to start 2019, with our quarter one growth estimate chopped to 0.7 per cent (annualized rate), from two per cent previously," said the economists. "The expected rebound in production later in the year should contain the full-year 2019 GDP impact and potentially lift 2020 slightly, depending on timing. Indeed, we currently assume that production comes back online through the rest of 2019 and cuts are expected to fully unwind by the end of the year. As such, our forecast for 2019 GDP growth is now 1.8 per cent, down 0.2 percentage points, while 2020 is now 1.7 per cent, up 0.1 percentage points. Overall, this is a modest downgrade to the growth call but there's plenty of uncertainty heading into next year."
In making the announcement on Sunday, the province said the price gap is caused by the federal government's decades-long inability to build pipelines.
It said Alberta is currently producing 190,000 raw crude oil and bitumen barrels per day more than can be shipped by pipelines, rail or other means. The amount of oil that's being diverted to storage is at record highs and storage is nearing capacity. The government said 35 million barrels of oil are in storage – about twice the normal levels. The price differential for Western Canadian Select (WCS) versus West Texas Intermediate (WTI) has been around US$30 to US$50 recently, peaking at US$52 in October.
The government said its action is projected to reduce volatility, narrow the differential by at least $4 per barrel relative to where it otherwise would have been and add an estimated $1.1 billion of government revenue in 2019-20.
The reductions will start January 2019 and the initiative will be implemented by the Alberta Energy Regulator.
---

The views, opinions and positions expressed by columnists and contributors are the author's alone. They do not inherently or expressly reflect the views, opinions and/or positions of our publication.