Sherry Shaw-Froggatt is publisher of airdrielife magazine. The current winter issue, Vol. 15 No. 4, wraps up the company's 15th publishing year and celebrates its 50th issue in total.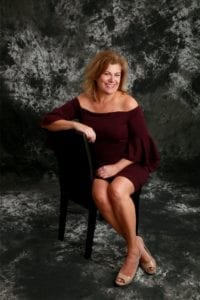 How and why did you start airdrielife?
Shaw-Froggatt: I can tell you the exact moment I had my epiphany. It was the week I was turning 40 and I was typing up an assignment for the Calgary Herald – I freelanced in Special Projects, as it was called back then – writing advertorial copy. I realized I was writing the weekly Auto Focus with my eyes closed. I was just going through the motions and realized I was not having any fun nor was I challenged creatively. (There are only so many ways to say "Our customer service is number one!").
So, I made the decision when I sent in my assignment that it was my last one. (I think I actually ended up doing a few more as one car dealer refused to let anyone else write for them.) I needed a project to nurture my creative side. I had worked on a few specialty publications and wondered if Airdrie could support one. Initially I think I thought of it as a stand-alone project, sort of a once-a-year thing and at that time I had no desire to do the sales even though my professional background involved media sales and agency account management. I just wanted to focus on the content, so I approached a former colleague at the Edmonton Journal, Kathy Anderson, who came on board to focus on all the sales, printing and distribution.
Together we approached the City of Airdrie Economic Development team and, as they say, timing is everything. The city was ready to start "selling Airdrie" and their marketing material was woefully outdated. My initial thought was I needed their buy-in and connections to launch successfully and be regarded as a legitimate enterprise. To this day, I still work with Economic Development in developing story ideas for our Worklife section we launched that fall with 56 pages and broke even. By that I mean we covered all our hard costs and I think Kathy and I each made a whopping $500 plus we took our husbands for dinner at the Bear's Den.
After the first three issues, Kathy decided to pursue real estate (at which she has succeeded greatly) and I took sole ownership of the magazine. It was a semi-annual publication until 2008, when I jumped to three issues a year.
That summer I had a mentorship with the late, great Ruth Kelly. She quite briskly asked me "why the f— are you publishing three times a year?" I mumbled that I was nervous about doing it quarterly. She told me to sh—or get off the pot. So in 2009 I launched the quarterly schedule and never looked back.
Two years later I was nominated in the same category as Ruth for Publisher of the Year (Alberta Magazines) – which was like being up against Meryl Streep for best actress.
What's your vision and purpose for the magazine?
Shaw-Froggatt: It has always been about sharing the good stories and initially about "selling" Airdrie as a great place to live, work and play; our earlier issues were very much cheerleading potential residents and businesses to relocate to Airdrie.
I received an email from an Esso employee back when Esso made the announcement to move their head office to Calgary. Five hundred copies of airdrielife were sent to Toronto as part of the employee info session. The email basically said his family was ready to make the move west because of the magazine! That was an incredible thing to read.
We don't court controversy or hard news. We don't get political. I was once told "airdrielife is like a big teddy bear" and that what we did was like "giving the city a big hug." I still like that sentiment, but as we've grown and the city has grown we've become more polished. (I can barely look at the first few issues; it's like looking at my fashion choices from the late '80s.)
My personal vision has been to make the magazine a part of the fabric of life here in the city. I created the Amazing Airdrie Women Awards in 2011 as a part of that vision. This program has taken the magazine off the page, to become an annual sold-out event entering its 9th year and has raised our profile across the city.
To date, we have profiled more than 200 women who earned a place in the magazine for their courage, leadership, heart, promise or determination.
I became the driving force (not my words, honest) behind the arts community between 2010 and 2015 simply because I wanted more arts and more culture in my magazine. I was rewarded many times over for this with accolades and awards (the highest being the Queen's Diamond Jubilee Medal), but what I loved most was the fact my pages were vibrating with colour and excitement about people and projects.
In 2017, we launched the Awesome Airdrie Kids Awards and this community-wide project culminates in a family night celebration honouring each child. It has given me more satisfaction than anything to date.
Can you give me a sense of the magazine's reach in the community and its readership?
Shaw-Froggatt: airdrielife is delivered to all homes in Airdrie and Crossfield, plus we have more than 100 racks and locations around the city and 100 locations in Calgary. That's 31,000 issues a quarter. We are the only Airdrie-focused publication available in Calgary and CrossIron Mills. We have a hard time keeping some of our rack locations filled in Airdrie so we take that as a sign that people are happy to see it.
We've developed a strong online presence, too, with airdrielife.com, where all our issues are available digitally, and we have an engaged community on social media. Our readership/followers reflect the city demographics quite closely – although we do skew higher to women, according to our surveys and contests. Interestingly, 76 per cent of readers surveyed say they have bought product or services as a result of reading the magazine.
We know how the media industry has been challenged these days. Can you talk a little about how your magazine has been able to succeed in this environment?
Shaw-Froggatt: The simple truth is I have a home office with no overhead. Everyone is contract/freelance except for me. My business model adjusts its COGS directly in relation to revenues quite nicely. But I am proud to say the business has seen steady growth and 2017 was a record year for ad revenue and I only missed matching that in 2018 by one per cent!
There is no question I have had to adjust my strategy over the years – more time is spent developing our digital presence – but we are seeing great results. But as I pointed out, we run out of copies regularly – people like having a magazine in their hands. Our surveyed readers will keep a current issue for six weeks or longer!
The Fall 2018 Vividata Study revealed "nine out 10 Canadians read a magazine brand in the past three months. One in three magazine readers searched online for a product, brand or service advertised in a magazine and nearly a quarter or readers used a discount offered in a magazine." If we keep delivering a quality product that engages local readers (on all platforms), the advertisers follow. We have had advertisers leave to pursue a total online strategy only to return in 12 months to say they need us as part of their marketing plan. We are very appreciative of the ad partnerships we have – we have several companies who have been in every issue since we launched. That is a testimony in itself!
What are your future plans for the magazine?
Shaw-Froggatt: I am fortunate to be in Airdrie – a city that has grown from 26,000 when I started, to 68,091 in 2018. I was in the right place at the right time. And I believe I am still in that coveted position. The projected growth for 2028 suggests 91,730 – do the math, that's a 26 per cent increase in my potential audience. Those racks will need even more attention!
After 15 years, we have made a name for ourselves as a placemaker. airdrielife is where the community comes together, 100 or so pages at a time.
I am thinking about the future (hey, Freedom 55 is less than a year away)! But at some realistic time in the future I would like to be able to walk away secure in the knowledge that airdrielife continues to tie the city together. So I do hope for a champion to take the reins and take the business forward once I am ready to step away. There is still a lot of life to be celebrated here.
– Mario Toneguzzi
---
The views, opinions and positions expressed by columnists and contributors are the author's alone. They do not inherently or expressly reflect the views, opinions and/or positions of our publication.