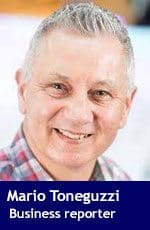 A Calgary developer is banking on the future Green Line LRT to give a major boost to his new condo project in the southeast Inglewood neighbourhood just outside the city's downtown core.
A future LRT station on 11th Street S.E. will be located within walking distance of AVLI on Atlantic, which is currently under construction.
AVLI is a seven-storey, 64-unit luxury concrete condo building.
"The new infrastructure plan is an excellent initiative for Inglewood and Calgary in general," says Brian Kernick, president of Greenview Developments. "We have a lot of homeowners who are downtown working professionals, so this will be a great option to commute to work without the hassle that driving downtown presents.
"Cars are increasingly just one of the travel options for people here. LRT creates new commuting and visiting patterns, especially as the Green Line will feature interchange points along the route – and an eventual link to the airport."
He says the Green Line LRT will be a game changer for the AVLI project and for the Inglewood neighbourhood.
"It's going to be a positive thing for Inglewood and our project for sure," adds Kernick. "From everything I've been told about the Green Line, it's going to be really great. It's going to add a lot of value to anyone who's close to it. A great way to get around."
Kernick says 9th Avenue S.E.,  also called Atlantic Avenue, is undergoing a transformation as new art spaces, live music venues, restaurants, craft breweries and boutique grocery stores open.
"Our brief on the design of AVLI on Atlantic was that it needed to be a work of art itself in order to fit with Inglewood's art scene," says Kernick. "We're in the process of achieving that and it's proving popular with buyers and while 77 per cent of homes are sold, there are still homes to choose from."
He says the Green Line is expected to have a positive impact on real estate investment in the area. Several research reports in the past have indicated enhanced property values based on proximity to public transit.
"With condo bike storage and repair workshop amenities built into its design, AVLI on Atlantic gives Calgarians old and young lots of ways to get around – and the confidence that comes from investing in an area receiving a major infrastructure boost," says Kernick.
Homes at AVLI on Atlantic start in the low $300,000s with custom floor plans and ranging in size from 545 square feet to 2,200 square feet. The development offers a unique mix of one and two bedroom units (plus den) and offers four live-work homes and seven penthouse suites.
It also features a $5-million retail space on the ground floor with five retail units ranging in size from 1,044 square feet to 5,230 square feet. Those spaces are currently for lease.
The condo project is expected to be completed by the spring of next year.
"It's a very unique project. It's a work of art. It's an intimate boutique building. It's not like living in a high-rise downtown. … Our project  is only seven storeys. Glass elevators going up. Nice balconies. Great views. And it's in Inglewood, which was rated the number one community in Canada at one point. Lots of great restaurants and everything else," says Kernick.
---

The views, opinions and positions expressed by columnists and contributors are the author's alone. They do not inherently or expressly reflect the views, opinions and/or positions of our publication.