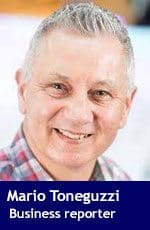 A new program is helping small Alberta businesses grow internationally.
The Alberta Manufacturing Export Compass is a program of the government of Alberta's Department of Economic Development and Trade. It's facilitated by the Mount Royal Institute for Innovation and Entrepreneurship Growth Compass Lab.
"Going international is not a guaranteed route to growth. A variety of factors serves to accelerate and hinder returns. However, managing by trial and error is a high-risk strategy – rather, it is essential that you have access to the facts up front to help you mitigate risks and promote opportunity at every turn," says David Finch, associate director at Mount Royal University, Institute for Innovation and Entrepreneurship, in a LinkedIn blog post.
"AMEC is a stepped program designed to provide an intensive and customized support program for a select group of growing Alberta manufacturing small companies looking to expand internationally."
The Alberta government says small businesses in the province today are "overly reliant on their local markets, with local sales accounting for over 75 per cent of annual sales revenues."
"Research demonstrates that the more geographically diversified a small business is, the more likely these companies are to grow. Alberta small business need to locate growth markets beyond Canada's borders," it says.
The Alberta manufacturing sector employs 140,000 people  and generates $75 billion in annual sales.
Though manufacturing represents 25 per cent of Alberta exports, exporting still represents less than 25 per cent of the sales revenue for three out of four small business, says the government.
"The factors influencing small business export performance are complex and include a combination of internal, external and contextual factors. The three-stage AMEC pilot program is designed to go beyond traditional generic resources and provide an intensive and customized support program for Alberta manufacturing firms," says the Alberta government.
It says the program is ideal for Alberta-based manufacturers with between 25 and 250 employees, annual revenue of at least $2 million and exports representing less than 25 per cent of revenue.
Mario Toneguzzi is a veteran Calgary-based journalist who worked for 35 years for the Calgary Herald in various capacities, including 12 years as a senior business writer.
---

The views, opinions and positions expressed by columnists and contributors are the author's alone. They do not inherently or expressly reflect the views, opinions and/or positions of our publication.
Calgary's Business is a Troy Media Digital Solutions Associate website