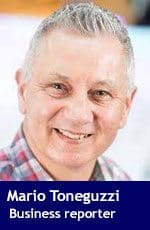 Here's something very cool happening in the southwest Calgary neighbourhood of Currie.
In celebration of World Honeybee Day on August 17, the master-planned community by Canada Lands Company has installed community beehives to educate and raise awareness about the role honeybees play in the ecosystem.
"Our hope is that urban beekeeping in Currie will help to create a community of bee advocates who embrace the hives as a meaningful part of their community," said Mary Thymaras, Director, Real Estate, Canada Lands Company. "We know that Calgarians value sustainability and having access to beautiful, natural spaces. We believe these go hand-in-hand and we are committed to ensuring Currie is a place that people can feel excited and proud to call home."
Canada Lands said the hives have been sourced in partnership with Alvéole, a Canadian organization dedicated to bringing awareness to urban beekeeping and supporting local honeybee populations. Designated Alvéole beekeepers regularly maintain and monitor the hives to ensure the health of the bee colony and harvest honey when needed. Currie's hives currently house a growing population of 28,500 honeybees that can fly across more than 30,000 kilometres daily, said the developer.
The master plan for Currie includes 23 acres of greenspace and the hives have been incorporated into an existing natural environment that will eventually be connected to outdoor spaces that are still to be developed. The honeybees will help pollinate and maintain the health of plant life throughout Currie, in addition to the other countless benefits bees are known to have on local environments, explained Canada Lands.
 Currie and Alvèole are also offering complimentary workshops to area schools and community groups to teach students, educators and residents of all ages about honeybee ecology and urban beekeeping. 
---

The views, opinions and positions expressed by columnists and contributors are the author's alone. They do not inherently or expressly reflect the views, opinions and/or positions of our publication.