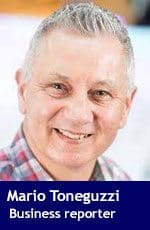 Labour shortages continue to trouble small and medium-sized businesses in the third quarter of 2018, with the job vacancy rate rising to 3.3 per cent, according to the latest Help Wanted report released on Tuesday by the Canadian Federation of Independent Business.
About 430,000 private sector openings remained unfilled for at least four months because employers were unable to find qualified candidates, said the report.
In Alberta, there were 41,800 unfilled jobs with a vacancy rate of 2.6 per cent.
"We're seeing the job vacancy rate rise above the records set before the 2008 financial crisis, and businesses are really feeling the pressure, especially in Quebec, B.C. and Ontario," said Ted Mallett, CFIB's vice-president and chief economist. "Businesses will likely respond to these trends by investing more in capital than labour in 2019, along with redistributing wages to key roles in the company."
Ontario had 167,900 unfilled jobs while it was 117,700 for Quebec and 67,100 for British Columbia.
"Employers with at least one vacant post experienced more pressure to increase wages, expecting to push average organization-wide wage levels up by 2.6 per cent, compared to an average 1.7 per cent gain planned by businesses without any job openings," said the CFIB report.
"Quebec continues to lead the country with the tightest labour market, at a 4.1 per cent vacancy rate. British Columbia maintained its 3.7 per cent vacancy rate, while Ontario experienced a slight increase to 3.3 per cent. Nova Scotia and Alberta also saw an increases to 2.6 per cent, while New Brunswick (2.7 per cent) and Manitoba (2.6 per cent) held steady. Saskatchewan, Prince Edward Island and Newfoundland and Labrador trailed the rest of the country at 2 per cent, 1.5 per cent and 1.3 per cent respectively.
"Vacancy rates advanced in professional services, construction, agriculture and oil and gas, but remained unchanged in other sectors. Personal services maintained the highest vacancy rate at 4.8 per cent, followed by construction (4.4 per cent) and professional services (3.8 per cent). These sectors also tend to have smaller businesses on average, which tend to experience higher vacancy rates than large firms. The finance and information sectors had the lowest vacancy rates at 2.1 per cent and 1.8 per cent respectively."
---

The views, opinions and positions expressed by columnists and contributors are the author's alone. They do not inherently or expressly reflect the views, opinions and/or positions of our publication.