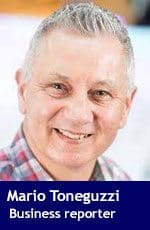 How big are the differences in home prices between Alberta's two biggest cities?
Data released on Monday by the Canadian Real Estate Association shows there is an almost $100,000 difference in the benchmark prices of homes in Calgary and Edmonton.
The MLS benchmark price – which is considered to be that of a typical home in a market – was $417,900 in Calgary in August while it was $318,600 in Edmonton. Year over year, prices in Calgary have fallen by 2.61 per cent while they are down 2.62 per cent in Edmonton.
On Monday, CREA released its updated quarterly forecast for the resale housing market in Canada. It said the average price of a home in Alberta will dip 2.3 per cent this year from 2018 to $378,000 and drop again by 1.2 per cent in 2020 to $373,700.
In August, MLS home sales across Canada advanced for the sixth consecutive month and CREA said transactions are now running almost 17 per cent above the six-year low reached in February, but remain about 10 per cent below highs reached in 2016 and 2017. 
"The mortgage stress-test has eased marginally and that's helped some potential homebuyers," said Jason Stephen, CREA's president, "but the extent to which they're adjusting to it continues to vary by community and price segment."
"The recent marginal decline in the benchmark five-year interest rate used to assess homebuyers' mortgage eligibility, together with lower home prices in some markets, means that some previously sidelined homebuyers have returned," said Gregory Klump, CREA's chief economist. "Even so, the mortgage stress-test will continue to limit homebuyers' access to mortgage financing, with the degree to which it further weighs on home sales activity continuing to vary by region."
In its updated quarterly forecast, CREA said economic fundamentals underpinning housing activity remain strong outside of the Prairies and Newfoundland and Labrador. 
"Population and employment growth have both remained supportive and the unemployment rate remains low. At the same time, expectations have become widespread that the Bank of Canada is unlikely to raise interest rates over the rest of the year and into next," said the report.
"More importantly for home buyers and housing markets, longer-term mortgage rates have been declining. Among those that have declined is the Bank of Canada's benchmark five-year rate used by banks to qualify mortgage applicants. Additionally, the federal government has recently launched its First-Time Home Buyer Incentive, a shared equity program in which the federal government finances a portion of a home purchase in exchange for an equity share of the home's value.
"Of these factors supporting Canadian housing activity, the decline in mortgage rates is arguably the most important development since the release in June of CREA's most recent forecast. The decline in the benchmark five-year mortgage rate has marginally relaxed the B-20 mortgage stress-test, which has dampened housing activity more than other policy changes made in recent years. Home sales have improved by more than expected in recent months and there are early signs that home price declines in the Lower Mainland of British Columbia and across the Prairies may be abating. Meanwhile, home prices are re-accelerating across Ontario's Greater Golden Horseshoe region."
Mario Toneguzzi is a Troy Media business reporter based in Calgary.
---

The views, opinions and positions expressed by columnists and contributors are the author's alone. They do not inherently or expressly reflect the views, opinions and/or positions of our publication.