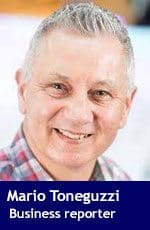 The Edmonton census metropolitan area reported the largest price decrease in the nation in July for new homes, according to Statistics Canada.
The federal agency said on Thursday that prices in the Edmonton region fell by 0.8 per cent from June "with builders offering promotions and cash rebates to stimulate sales."
"Canada Mortgage and Housing Corp. reported that single-family home starts in Edmonton were down 25.2 per cent year to date in July compared with the same period in 2018. Single-family homes include single, semi-detached and row houses. Lower demand for housing in this census metropolitan area (CMA) coincided with Edmonton's 7.5 per cent unemployment rate in July, the highest level since October 2017," said StatsCan.
On an annual basis, prices in Edmonton were down two per cent.
In the Calgary census metropolitan area, prices for new homes were flat in July but year over year, they fell by 2.6 per cent.
New housing prices were down 0.1 per cent at the national level for the third consecutive month in July.
"Unfavourable market conditions and lower negotiated selling prices led to falling prices in Toronto (-0.6 per cent) and Vancouver (-0.5 per cent) in July, the largest declines in nearly a decade," explained the federal agency.
"The prices of new homes continued to increase in Montreal (+1.6 per cent) and Ottawa (+0.9 per cent) in July because of a combination of factors, including higher construction costs and increased demand, coupled with low supply in the housing market."
New house prices at the national level were down 0.4 per cent year over year in July, the largest decrease in almost a decade, said StatsCan.
"Continuing the trend from June, the year-over-year decline in house prices accelerated in Regina (-2.8 per cent), Calgary (-2.6 per cent) and Edmonton (-2.0 per cent) in July. The oversupply of homes, combined with unfavourable market conditions, continued to lower new house prices in these CMAs," it said.
"Ottawa (+5.5 per cent) and Montreal (+3.6 per cent) posted the largest year-over-year increases, with favourable market conditions and higher construction costs contributing to the rise."
| Edmonton's Business 
---

The views, opinions and positions expressed by columnists and contributors are the author's alone. They do not inherently or expressly reflect the views, opinions and/or positions of our publication.