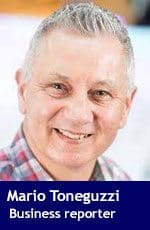 Is Calgary's downtown leasing market in a recovery phase or just experiencing a dead cat bounce?
That's the question posed by a recent third-quarter market report by commercial real estate firm JLL.
The report said downtown vacancy experienced positive absorption in the quarter but remains elevated with more than 10.3 million square feet of vacant space.
The in-migration of suburban tenants looking to relocate downtown is also increasing.
During the third quarter downtown vacancy decreased by 30 basis points to 23.6 per cent.
"Although overall vacancy remains high within the Calgary market, downtown sublet space is seeing improvements accounting for only 26 per cent of the total vacant space. The majority of available sublease activity has been in top tier, class A, centre core space where sub-landlords are offering space at discounted rates. This remains an accurate representation of tenants flight to quality movement. Downtown Calgary's average gross rents have risen to $32.59 from $32.53 per square foot in the previous quarter," said the report.
"Calgary's office tenants are still taking advantage of the very favourable market. With class A space at discounted rates, class B and C landlords are being forced to find creative ways to stay relevant within the market. There is increasing competition between building owners to offer new and useful amenities and come up with unorthodox offerings to attract new tenants into their buildings. As a result there has been higher demand for hassle free move in ready space to accommodate tenants."
The report said that many people speculate that the downtown market has bottomed out and will begin the recovery process.
"With tenant favourable deals and landlords increasing tenant improvement allowances there has been a noticeable movement of in-migration of tenants from the suburbs into downtown office buildings. Two key factors that will impact the overall market and shape the economic future in Calgary are the uncertainty of the new USMCA trade agreement and the timing of completion for the Trans Mountain pipeline," added JLL.
Mario Toneguzzi is a veteran Calgary-based journalist who worked for 35 years for the Calgary Herald, including 12 years as a senior business writer.
---

The views, opinions and positions expressed by columnists and contributors are the author's alone. They do not inherently or expressly reflect the views, opinions and/or positions of our publication.