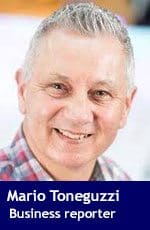 Alberta small business confidence took another slight dip in October with the Canadian Federation of Independent Business reporting that its latest monthly Business Barometer was down half a point in the province.
The decline puts Alberta's Business Barometer at 53.6 points, the third lowest in the country, and a bit behind the national indicator of 59.8 points.
CFIB said it should be noted the cutoff for this month's barometer was Oct. 15, so it doesn't reflect the results of the federal election or the recent Alberta budget.
"Confidence has remained low, and relatively stable over the past few months," said Keyli Kosiorek, CFIB policy analyst, in a news release on Thursday. "With the Alberta government's budget recently tabled, we are keeping a close eye to see whether the government's long-term economic growth plan will start to have an impact on small business confidence."
CFIB said the Alberta index of 53.6 is still well below the 65 to 75 point range (on the 100 point scale) that indicates economic stability and growth.
It said entrepreneurs' intentions to hire over the next three months are up slightly: 11 per cent of business owners in Alberta said they plan to increase their full-time employment (up two percentage points from September), compared to 21 per cent who anticipate a decrease (up three percentage points from September).
The provincial numbers for October were: Prince Edward Island (69.4), Nova Scotia (66.8), Quebec (66.7), New Brunswick (66.5), Manitoba (63.5), Ontario (60.0), Newfoundland & Labrador (55.8), Alberta (53.6), British Columbia (52.8), and Saskatchewan (50.0).
Meanwhile, another poll of Canadian entrepreneurs and business owners, the CIBC Business Optimism Survey, finds that 87 per cent are optimistic about the future success of their business; but when it comes to the economy overall, they are far less upbeat, with 44 per cent listing it as their top concern for 2020.
"Canadian entrepreneurs are building financial security with 74 per cent telling us their current financial situation is much better than before forming their business," said Andrew Turnbull, senior vice-president, of business banking at CIBC. "But some worry about what's ahead for the economy with 44 per cent of entrepreneurs listing it as a top 2020 concern."
Other concerns for the new year include:
Sustaining and growing margins/profitability – 38 per cent;

Business taxes and employees/staffing – 33 per cent;

Administrative concerns – 20 per cent;

Regulatory/trade obstacles – 17 per cent.
When asked about the top five ongoing challenges their organization faces, entrepreneurs listed rising costs (59 per cent), competition (43 per cent), future growth prospects (40 per cent), HR and talent (39 per cent) and managing cash flow (32 per cent), said the report.
"Every entrepreneur faces unique challenges for their particular business, but the commonality of rising costs and heightened competition necessitate innovation to stay ahead of their industries whether it is to elevate customer experience or to create business efficiencies," said Turnbull.
---

The views, opinions and positions expressed by columnists and contributors are the author's alone. They do not inherently or expressly reflect the views, opinions and/or positions of our publication.