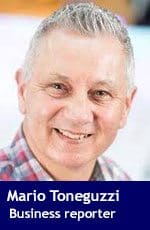 Alberta municipalities are increasing their spending at unsustainable rates, according to the 10th edition of the Alberta Municipal Spending Watch Report released Thursday by the Canadian Federation of Independent Business.
The report, which analyzed operating spending habits of Alberta's 17 largest municipalities, found that only one kept spending at a sustainable rate between 2007 and 2017.
The CFIB said three municipalities stood out in the report for their sustainable spending patterns:
Airdrie most consistent: consistently one of the top performers, ranking well each year when compared to other municipalities.

Cochrane most improved: the only municipality to see spending growth under that of population growth, meaning tax savings rather than increases. 

Okotoks most resilient: in response to being hit by the 2013 floods, the municipality ramped up its spending. However, over time Okotoks has shown it's possible to get back on track, managing to decrease spending considerably in two of the last three years.
"Taxpayers are in for a real shock if municipalities continue down this path of unsustainable spending," said Keyli Kosiorek, CFIB policy analyst for Alberta, in a statement. "Municipalities need to develop long-term plans to manage growth and spend within their means without increasing property taxes on residents and businesses."
The report also revealed a strong connection between a municipality's ranking and the number of full-time employees it has relative to the size of its population. Generally, municipalities that have a lower resident per municipal worker ratio operating spending is higher.
For example, Airdrie has one full-time worker for every 167 residents. Meanwhile, Strathcona County has one full-time worker for every 61 residents. With wages and benefits as the biggest driver of municipal costs, it's critical taxpayers know how many people work at their city hall, said the organization.
Other report findings:
In Alberta's 17 largest municipalities, unsustainable municipal spending cost an additional $4,400 per resident over the 2007-2017 period.




For Alberta's 17 largest municipalities, population increased by 26.8 per cent from 2007-2017, while real municipal operating expenditure grew by 66.6 per cent.




The Regional Municipality of Wood Buffalo (Fort McMurray), Strathcona County and Grande Prairie are the worst performing in terms of spending patterns.




In 2017, the cumulative operating spending per capita for Alberta's 17 largest municipalities was $2,596. Operating spending in the Regional Municipality of Wood Buffalo was the highest at $5,002 per capita. Operating spending in Cochrane was the lowest at $1,538 per capita.




For many municipalities, part of their over-spending problem is the result of expanding the municipal workforce much faster than population growth and increasing municipal wages well beyond the private sector average.



The report listed in order Cochrane, Okotoks, Lloydminster, Airdrie and Spruce Grove as the best in terms of sustainability patterns of their spending. Edmonton was 10th overall and Calgary 11th.
---

The views, opinions and positions expressed by columnists and contributors are the author's alone. They do not inherently or expressly reflect the views, opinions and/or positions of our publication.